Monday July 13, 9 am – Dr Capraro's Office
The Monday after my surgery I had a follow-up at Dr Capraro's office (6 days post op).  I was still in an anesthesia cloud and fully medicated with narcotics. My arm movement wasn't bad, but I had no strength. The Hubs had to open and close car doors for me and even put my seatbelt on. I held the top part of the seatbelt away from my chest. I was fine walking short steps at home, but when we went to the doctor's office he dropped me off at the front door. I was very wary of other people. I think I looked okay but I wasn't moving fast, and if you held a door open for me I couldn't reach out and hold it with my arm, I had to shove my food forward to stop the door slamming into me.
This was the first time the Hubs had been to the Plastic Surgeon's office. It is quite different from offices that don't deal with a lot of elective surgery. We were shown into a room and they asked me to take my top clothes off, but keep the surgical bar/corset on. The corset was like a stiff sports bra with velcro every where so it could be snug and tightly closed. It had become my protector and held everything in place. I did not like taking to off and being exposed when I had a shower, but it was uncomfortable; a sort of love hate relationship.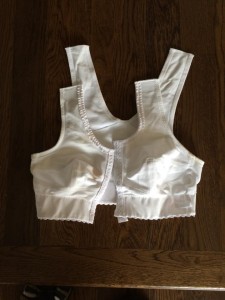 The nurse took off the corset and peeled back the gause to look at my stitches. Since I had elected to remove my nipples, I had two 3 inch incisions across each breast. The stitches were covered with surgical tape and the deflated skin was black and green with bruises.   Much to my surprise she said I could remove the corset and just wear a camisole top or loose fitting seamless bra; everything looked good. I felt a little naked, but happy to wear something not so restrictive. They also emptied my 2 drains, and said they looked good too.
Before we left we made an appointment for the following Monday.
Monday July 20, 10 am – Dr Schwartzbergs's Office
This Monday I felt so much more alert than the previous Monday. My range of movement was good too.  I was amazed how well I felt.  I  was still on percocet at night, with the odd valium during the day when the muscle swtiches were too much.  I was also still on antibiotics and would be until the drains came out.  I was also using the anti nausea pills more than I thought I would; they really helped when stress I had a shower.
Dr Schwartzberg said everything was looking good.  When I asked her about my range of motion she said I was doing fine. I could reach my arms high enough to brush my hair, and behind me to close a bra.  I still could not bend over to do things like empty the dishwasher.  Dr Schwartzberg said I could start doing more next week. At 3 weeks I could start working on the exercises I had been given by the physical therapist.
I asked about driving and she said I couldn't drive until I was off narcotics (which I knew), and when my drains were removed. I was not happy about having to wait for the drains.
When we left I had an appointment for the next follow-up in 3 months.
Monday July 20, 3:50 pm – Dr Capraro's Office
The Hubs had taken me to my early appointment and then gone to work, but I still needed a driver for my afternoon appointment, so my friend Susie drove me.  My chest was still bruised and the deflated skin and incision marks were not pretty.  I was shocked when I first saw myself, but I didn't have any regret or second thoughts; what I saw was a necessary step in the process to recovery.  I was worried that I may scare people, so I really didn't want Susie to see me; you can't unseen it and I didn't want to provide unnecessary trauma.
I was back in the stylish blue paper vest when the doctor and nurse came in. They checked out my incisions and removed the surgical tape.  They also asked about my drains.  I had been given a sheet to mark daily morning and evening volumes, When my total daily  volume was below 25 ml for 48 hours they could remove the drip.   My numbers had been all over the  place, 31 ml one day, 21 the next day.  I had never been under 25 ml 2 days in a row.  My drips hadn't been draining evenly either. The right was slowing down more, and I had some really high numbers on the left. I had more pain on the left for some reason (the right one had cancer).
After some discussion they decided that they could take out the right drip.  Yes!  But not the left too, dammit!  All I could think was "Susie, don't look!" But I was laid flat, I was getting anxious so she came to my side to hold my hand.  I don't think  she held my hand because I was holding my arm in a weird position bracing for pain.  It wasn't pain it was the weirdest feeling ever. I could feel the drainage tube coming out from my sternum, under the breast and almost to my armpit; there was a lot of tube in there. Though there was little pain, it was not a nice experience and felt very, very uncomfortable and stung a little at the end.  The good news is, it came out fast and after the sting, there was no pain.  Yeah, drip free on one side.
Dr Capraro's office told me to call in a few days because it looks like I'll be ready to get the other drain out by the end of the week.  I was ecstatic. I hadn't really complained about the drains much, but they were a pain. I had to put them in a pocket or in my underwear and if they fell out, they tugged at the incision; it was a horrible feeling. Also, emptying them twice a day and marking the volume was getting old.
You should know that I am now happy that I only got one drain out at a time, because I did swell a little for a few days after the drain was removed, and the tightness was not fun. It was good to have them removed in stages.
Friday July 24, 1:30 pm – Dr Capraro's Office
On Thursday I called the office to say my drain numbers were getting low, so they told me to come in on Friday.  This was the first time I drove on my own. I took a percoset mid day Thursday and didn't take any valium either so I would be drug free 24 hours before I drove.
Driving was not as easy as I thought it would be. Our automatic Subaru was more difficult to steer than I anticipated. I had to slowly feed the steering wheel when I turned corners. So when I turned it was like slow motion, and I'm sure I frustrated a few drivers behind me. Also the seatbelt cut into my breast. I need up put my handbag on my lap to push out the top part of the seatbelt away from my delicate chest.
When I arrived at the office I must have looked traumatized, because they asked if I was okay. I said yes and explained this was my first time driving, post surgery.  I was now more worried about driving home than having the last drain removed.  At least I knew what to expect. The tube was long and seemed to wend it's way from my  cleavage to armpit like a weird snake under my skin. It made my hair stand on end, then it stung as it exited my body and was gone.  Any pain or awkwardness was overshadowed by the sheer joy of being drain free!
As if that wasn't enough joy for the day, I was told I could start filing the tissue expanders next week. I was told I could add 50 to 100 mls  of saline to each expander depending on what I could cope with.  I should also take a couple of valim and (of course) have someone drive me to the appointment.  I made an appointment for Wednesday July 29, 7:30 am so the Hubs could take me before he went to work.
A few days later I used a nausea pill to help me be brave again. This time I used it because I was feeling nauseous about taking off a bandaid where a drain had been.  I was are able to cover the gaping red hole with a new bandaid without puking. After not puking, I took a deep breath and felt brave